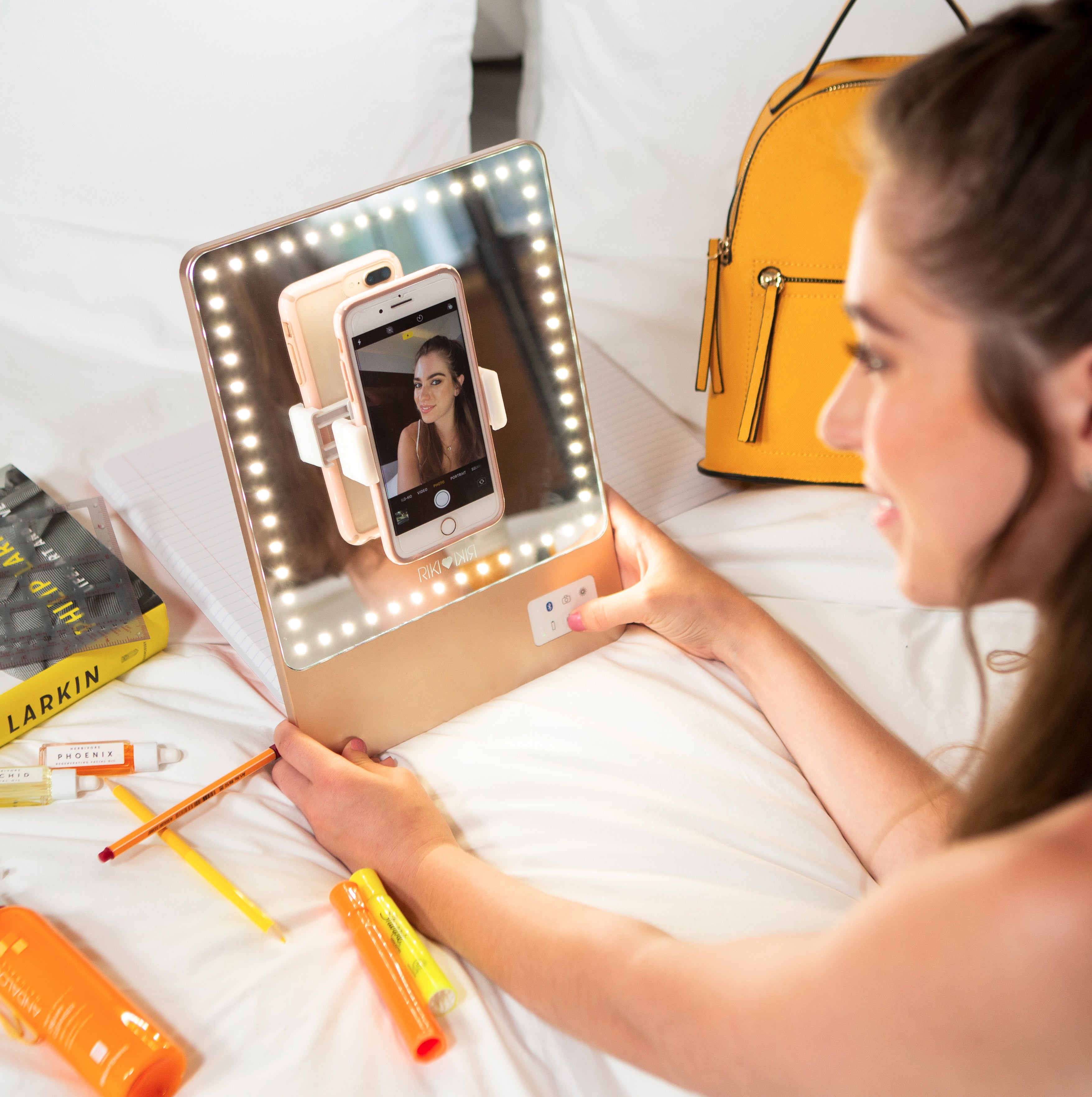 How to Livestream with Confidence and Create Quality Videos Worth Watching with GLAMCOR x RIKI LOVES RIKI
As live streaming and video content continue to gain popularity, it's also becoming more sophisticated, whether for entertainment, education, or business. Ever wonder how your favorite makeup artist, influencer, or online business coach produces quality videos straight from their bedrooms? Well, the secret is out.
Here are the best livestreaming and video producing tips with the help of the RIKI SKINNY, RIKI TALL, GLAMCOR MULTIMEDIA X, and the CREATOR.
THE STREAMING SET-UP
Before your livestream or video recording, it's crucial to plan all aspects of your gig, from the location, equipment, and what you're going to say.
Brainstorm and outline the talking points so you can make sure you're on track with what you need to say. 
Make sure that your smartphone has a good quality front-facing camera & maybe give it a quick wipe with a microfiber cloth to make sure it's in tip-top shape, why not right?
Choose the location you are going to film and set up the background with decoration or a backdrop.
Make sure that you have a sturdy and reliable Wifi connection there. That's key. Today's audience has a very low tolerance for poorly connected and slow streams. Ninety seconds is all it takes for viewers to say "see ya" to spotty streams.
Once you got all that figured out, it's time to test out your livestreaming equipment.
There are many, many different streaming equipments in the market today, but if Oprah Winfrey recommends something, you may want to take note. The RIKI SKINNY and RIKI TALL are LED vanity mirrors and streaming devices in one. All you have to do is pop your smartphone on to the magnetic phone clip and attach it to the SKINNY / the TALL or their included magnetic magnifying mirror. With five dimming stages, you're able to customize the LED lights to your liking to create the perfect setting (& of course, to show off your killer cheekbone highlight). With the SKINNY or the TALL, you'll be able to film makeup tutorials or livestream while using your mirror all at the same time. Once connected to Bluetooth, with a touch of a button, all you have to say is ACTION.
The GLAMCOR MULTIMEDIA X may look like it belongs in a professional tool kit, but in reality, it's the easiest streaming equipment & best portable video lighting kit you'll ever use. By attaching your smartphone to the phone clip and keeping the included remote control at hand, you'll have full control of your production from the different LED dimming stages to the Bluetooth connectivity. If you want to use the MULTIMEDIA X with other equipment, tablet and DSLR camera clips are available for purchase. When filming with the rear-facing camera, the REAR VIEW MIRROR, is a perfect addition to your kit so you can see the screen and have full control over your video. 
The GLAMCOR CREATOR is a live-streamers dream product. The CREATOR is a multi-device tripod stand with three flexible arms, three phone clips, and three fast-charging USB ports that allows you to stream on different platforms. With the CREATOR, your creativity has full range. Use one phone as your teleprompter with your talking points and the two other phones to stream Facebook or Instagram. Use one phone to record you speaking, and the other phone angled down to your counter while you whip up something delicious. With the CREATOR and additional accessories, the possibilities are endless.
HIT THE RIGHT ANGLES
Let's face it. Great makeup skills won't be of any help if you don't get your angles right. Position your phone to be directly in front of you or slightly above, angled down toward you. This will ensure that you get the most flattering angle without creating the appearance of a double chin. 
If your video or stream requires different angles, the GLAMCOR MULTIMEDIA X or the CREATOR is the way to go. Why? Because the three flexible arms and height-adjustable base allows you to film from pretty much any angle your heart desires.
#LIGHTINGISEVERYTHING
At Glamcor and RIKI LOVES RIKI, we live by this. But that doesn't mean that brighter is always better. Take a look at the location you plan on filming. How's the natural lighting in there? Is there a window nearby, and what time of day is it? Are there fluorescent lights or LED lights? These are the questions you need to ask yourself as you prepare.
Just because the RIKI SKINNY, RIKI TALL and the MULTIMEDIA X have bright LED lights don't mean you need to use it at max. capacity. Depending on the location's lighting, you may only need to use stage one or two. Besides, smartphone cameras today usually adjust their setting to level with the brightness, so the extra brightness wouldn't even make a difference in your video.
SHAKY CAM NO MORE
There's nothing that makes you want to click on "exit" than a shaky video. The more you move your phone, the more distracted your audience will be and can result in poor engagement. Keep the RIKI SKINNY or RIKI TALL propped up on its stand on a flat surface. If you're using the GLAMCOR MULTIMEDIA X or CREATOR, make sure the legs open correctly and securely to keep it from wobbling or tipping. 
BATTERY LIFE
Sadly, our smartphones aren't like the energizer bunny. Video tends to run down battery life quickly, so make sure your cell phone battery is at 100% beforehand. If you plan on streaming or filming for a longer time, stay close to a power source to connect your equipment and smartphone, and use an extension cord, if needed. Having a charged phone is the last thing you need to worry about when working with a GLAMCOR or RIKI LOVES RIKI product. The RIKI SKINNY has a dual USB charger that allows you to keep your phone charged the entire time while the CREATOR has three fast-charging ports. 
READY, SET, ACTION
If this is your first time livestreaming, it's okay to get nervous. If this is your 10th time, it's still okay. Like everything in life, practice is key. By making an outline of your talking points, rehearsing, and practicing in front of the camera, it will eventually click. Your audience will know when you're trying too hard, so be yourself. And with your high-quality videos and streams, your audience will grow alongside your confidence. 
Love,
RIKI