2020 Mother's Day Gift Ideas
Mother's Day is just around the corner, and it will be a very different one due to the worldwide COVID-19 outbreak. While many families are separated, it doesn't mean you can't show the moms in your life appreciation with unique and thoughtful gifts they can use while practicing social distancing.
We've rounded up some of our best products along with popular skincare brands that can be ordered online and delivered directly to her doorstep.
These Mother's Day gift ideas are perfect for all the moms in your life - friends, sister, wife, mother-in-law, daughter-in-law, and yours truly.
1. For the skincare loving mom: We all know that one mom who is SERIOUS about her five-step skincare routine.
Image by DR. DENNIS GROSS
DR. DENNIS GROSS ALPHA BETA EXTRA STRENGTH DAILY PEEL  ($88) is a two-step patent peel that reduces fine lines and wrinkles. Strong enough to be used in a clinic but gentle enough to be used at home.
Image by WANDER BEAUTY
WANDER BEAUTY DESTINATION GLOW SKINCARE KIT ($50) is great for the mom who likes to try new skincare routines. This kit has five full-size products designed to work together or separately.
RIKI TALL ($495) is a full-size vanity mirror with LED lights that will make ANY woman feel like a Hollywood star. With a modern and luxurious look, this Hollywood vanity mirror is also a great social media tool for content creators.
GLAMCOR REVOLUTION X ($270) is an LED light with flexible arms of different lengths that allows the lights to move in any direction.  It is incredibly versatile and can be used for DIY facials, eyebrow design, waxing, or simply for her workspace.
2. For the mom that is always on the go: From the working mom to the traveling mom, multi-tasking products are essential. 
Image by WANDER BEAUTY
WANDER BEAUTY AIRPLANE MODE MINI SKINCARE KIT ($49) has five travel-sized beauty essentials to combat dry airplane air and for daily use.  This kit meets all TSA requirements making it a no brainer for the traveling mom.
Image by ELEMIS
ELEMIS FOOD KEFIR TEA MIST ($33) is a 4-in-1 treatment mist that replaces four separate products with just one spray. Great for women on the go that needs quick pick-me-ups for a dewy complexion.
RIKI SUPER FINE 7X ($60) and RIKI SUPER FINE 5X ($50) are upgraded versions of the traditional purse mirror. With LED lights and a wearable retractable ring, any mom can quickly touch up and store their mirror in a purse or diaper bag.
GLAMCOR REVEAL (on sale now! $108) is an LED lamp with five dimming stages that clamps to any workspace. It can easily be stored and towed for traveling when hotel lights are dim at best, and for at home-manicures or DIY projects.
3. For the mom who puts everyone's needs first (& needs a spa day): Let's face it, all moms deserve a spa day. Give her a spa retreat at home.
Image by WANDER BEAUTY
WANDER BEAUTY'S BAGGAGE CLAIM EYE MASKS ($25) comes in a set of six award-winning eye masks. It de-puffs and brightens tired eyes, all while taking a much-needed nap.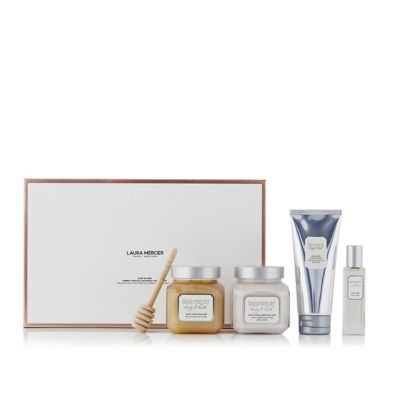 Image by LAURA MERCIER
LAURA MERCIER LUXE ULTIME AMBRE VANILLE LUXE BODY COLLECTION ($85) is a gift set with four luxurious and aromatic body products. With this set, a warm bubble bath, and a glass of wine, any mom can enjoy a spa night-in.
RIKI GRACEFUL ($125) is a handheld, wearable, and countertop magnifying face mirror with LED lights. This dual-purposed mirror can be used as a handheld or vanity mirror during her spa nights or as a purse mirror with its retractable and wearable ring.
GLAMCOR ELITE X ($255) is an LED lamp with brighter and stronger lights. Show her that you care about her hobbies by gifting her a flexible lighting solution that can be angled in any way for maximum brightness of all her hobbies and passions.
4. For the content creating mom:  From beauty blogger to mommy blogger, these products will either look great or enhance their Instagram feed.
Image by GLOW RECIPE
GLOW RECIPE GLOWIPEDIA GLASS SKIN KIT  ($104) is the gift set for anyone who wants to get rid of dull looking skin. With over 300 hundred positive reviews and beautiful packaging, this kit will catch anyone's attention.
Image by WANDER BEAUTY
WANDER BEAUTY LIFT OFF PURIFYING AND BRIGHTENING PEEL OFF MASK ($34) This fun berry-colored peel-off mask is not only great for multi-tasking but also makes for a great "self-care" selfie. It's filled with antioxidants that purify and brighten the skin.
RIKI SKINNY (on sale now! $165.75) is the #1 portable LED vanity and social media tool with Bluetooth capabilities and five dimming stages. It is perfect for your mommy-blogger sister or friend. The magnetic device clip and perfect lighting will upgrade the quality of their videos and photos. Bonus points if you are gifting this to an Oprah fan.
GLAMCOR MULTIMEDIA X (on sale now! $370 with accessories) is an LED multimedia light kit with a universal phone clip and Bluetooth selfie function. Used mostly by creators in the beauty industry, it can also be used for content creators who specialize in cooking videos, crafting, or DIY videos.
We are sure that the best Mother's Day gift for many moms would be to reunite with their loved ones (& maybe go out for brunch). But that may not be possible, so remember to do a video chat and tell her that you love her. Show all the moms in your life appreciation with one of the gift ideas above. We are sure it will be a hit!