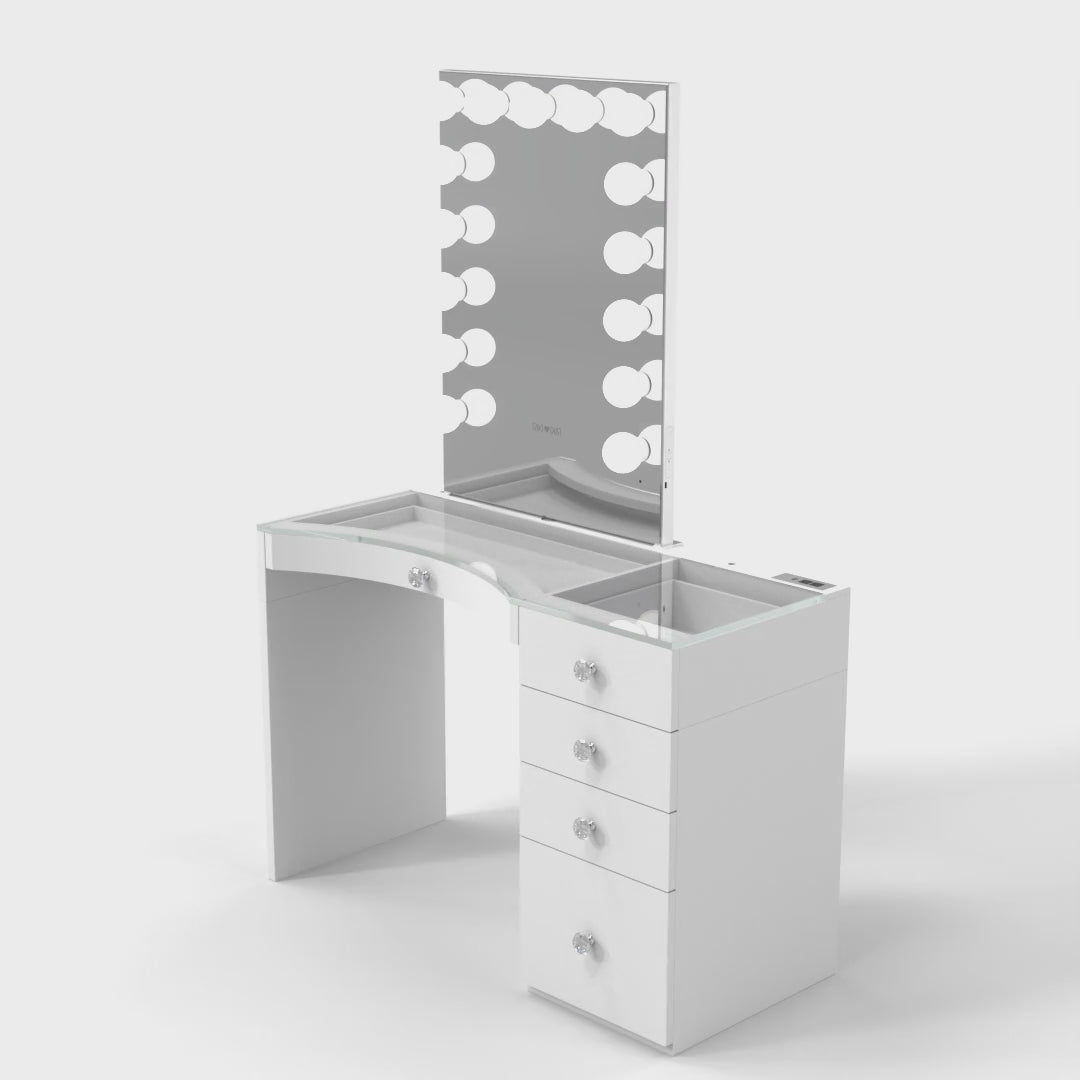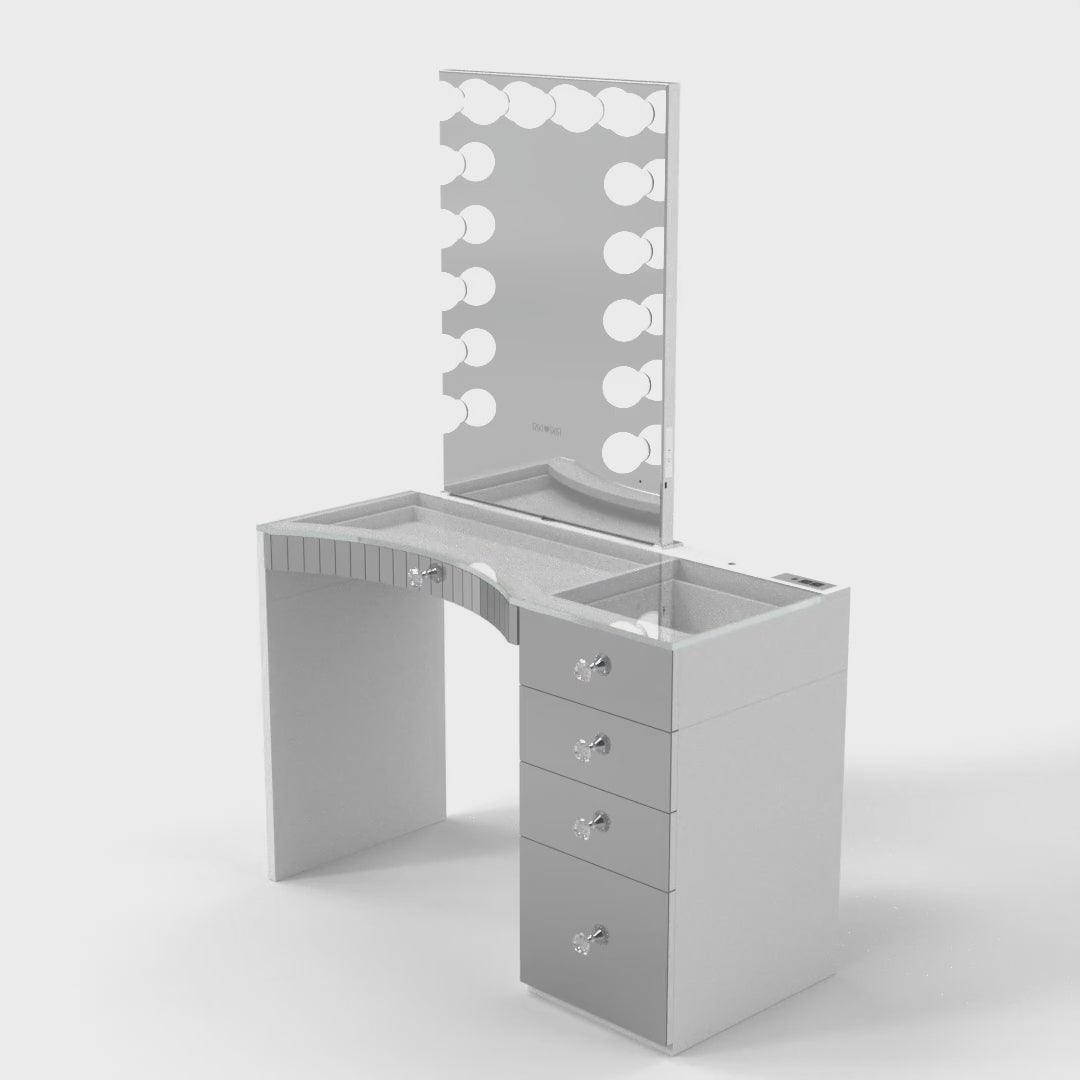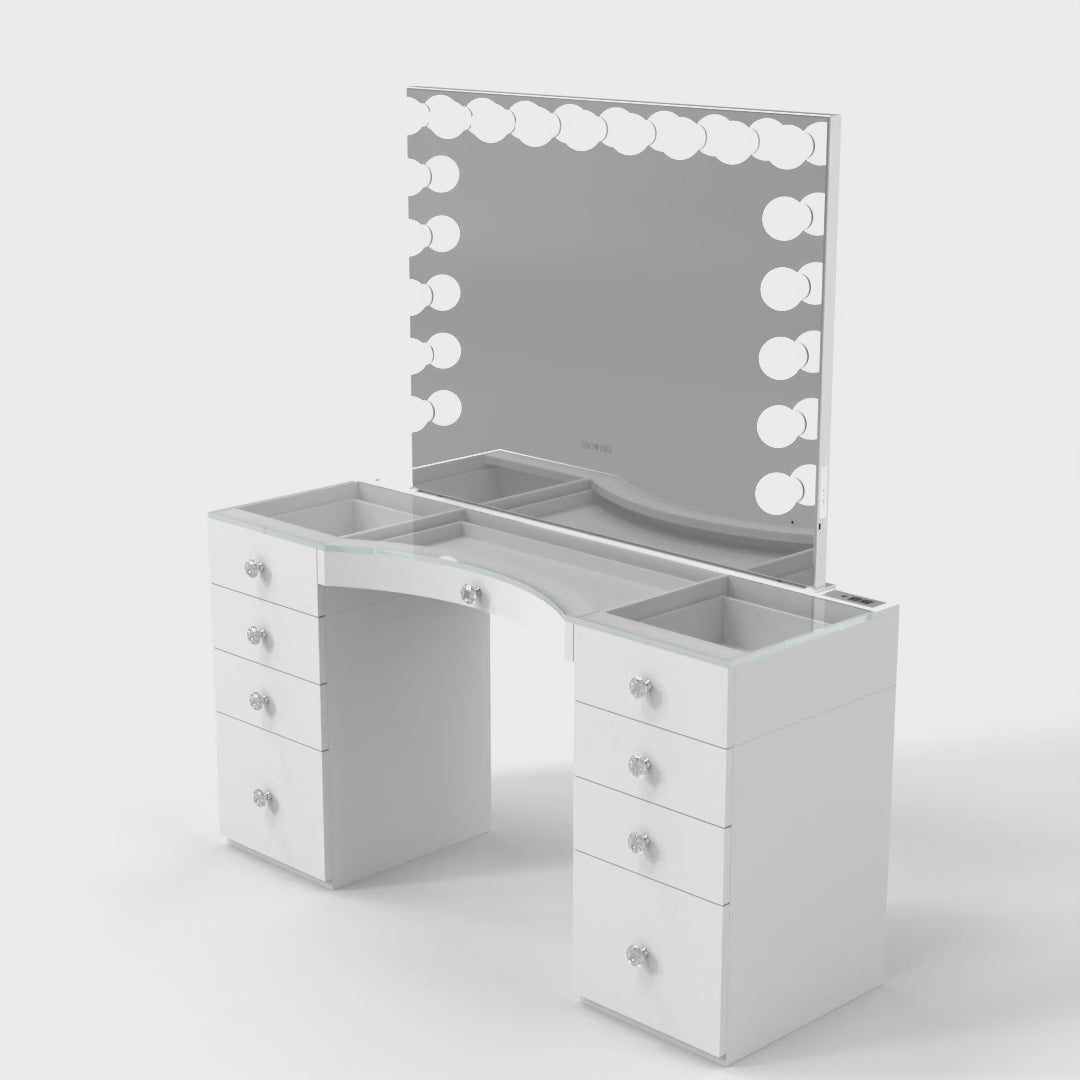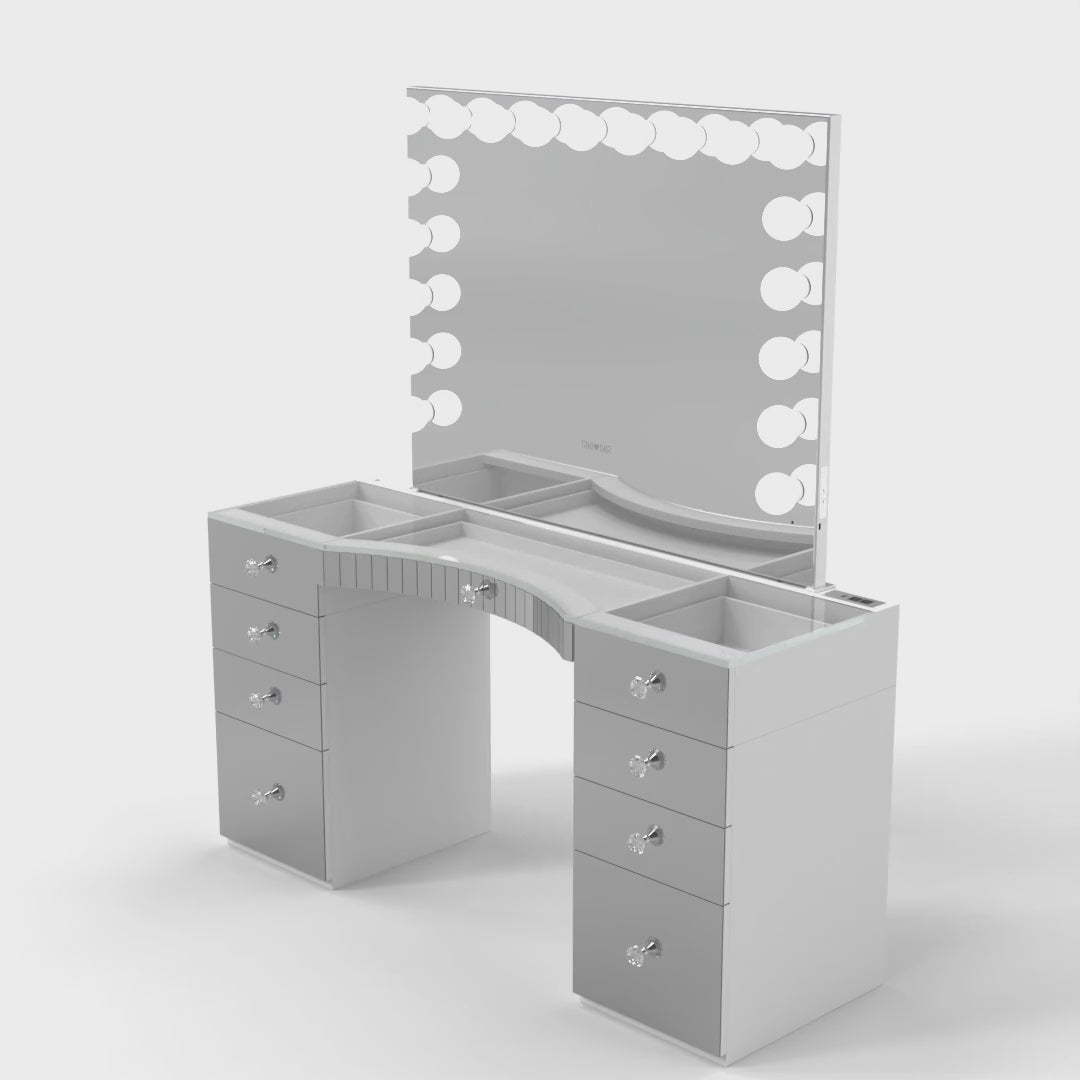 Have you been craving a true luxury vanity experience, but you're concerned about quality and the setup requiring two men and eight hours? You keep waiting hoping to find a meticulously crafted and show-stopping design. You've found it. The GLAMCOR Power Vanity is a purpose-built makeup vanity designed to capture the hearts of beauty enthusiasts and the desires of an influencer.

 It is so well thought out, and it's perfect in every way. Here's why:

Our carveout is an ergonomic feature.

 

It's important that you get up close to the mirror, but it's never comfortable. The carveout lets you comfortably lean into the mirror without hyperextending your back. It's a major comfort value, especially if you need magnification detail. (See our Hollywood Mirror magnetic mirror feature).
Our top drawers

 

under the ultra-clear glass top have actual useful space. Stand up your lipsticks or organize your palettes neatly.
It's powered.

 

Plug the vanity into a nearby outlet and power up two AC and USB outlets. You'll never need to worry about another power cube for charging your phone or running an extension cord for using hair tools.
Premium hardware.

 

Our upscaled crystal knobs are the best in all design classes.
The cable pass

 

keeps your look streamlined without unsightly cables draped and hanging.
Mounting for GLAMCOR lights

 

along the back of the vanity immediately transforms your vanity into a production studio. Start filming seriously for YouTube, TikTok, and Instagram. Add side lighting, an extra phone mount, a fan, and more just by using the GLAMCOR mount system.
Eight corners leveling feet.

 

Get a perfect, level vanity by adjusting the height of each base corner. Don't worry about uneven floors.
Built-in mounting system

 

for our Hollywood mirrors.

 Our sleek vanities come in two distinct finishes:

Pristine Pure White
Opulent Elegant Mirrored

Each are available in a compact Small Version, offering five drawers on one side, or the expansive Large Version with nine drawers.

 
The best Hollywood mirror in the world? That was our goal. It took three years to develop the only high-definition, color temperature adjustable lighted Hollywood mirror. Why is it so premium?

1) No "bulbs". The technology is embedded into the mirror, and our custom frosted Hollywood glass delivers and spreads HD light evenly.

2) You won't look like Grinch. Our mirror glass is low-iron, so there is no green in your beautiful reflection.

3) Selfie-ready. Our patented magnetic phone mount is ready for your perfectly illuminated photos and videos.

4) 50 Shades of Color. Stunning color temp adjustability. From a rich candlelight glow to noon daylight, this mirror will cast you in the best of all possible lights.

5) Smoothest Dimming. Control your brightness. Imagine the lowest brightness, warm color temperature, and a dark bedroom at night. Gorgeous ambiance.

A statement piece? Sure. It's also the perfect blend of sophistication and utility, designed for those of us who demand the best.

The mirror is available in two sizes.

Vertical: designed for places where space is at a premium.
Horizontal: a full, personal theater experience.

Other features include:

• Magnetic Magnifying Mirror: It's your secret weapon for impeccable detailing. Whether it's achieving the perfect winged eyeliner or sculpting your brows to perfection, this feature allows for a closer look, ensuring every detail is flawlessly executed.

• Remote Control: Make color temperature and dimming adjustments by just stepping back and seeing how you look. Also controls power. Great for bedside control.

• Amazing Warranty: Five (5) year unlimited unconditional warranty for manufacturer's defect, loss of functionality, parts, shipping, and service.

• USB charging port on the side of the mirror

• Slim power cable

• Premium aluminum frame and back

• Low-profile, clear acrylic base (if purchased without a vanity)

Replacement Bulbs - the "bulbs" on the mirror are customized Hollywood glass - all of the technology is inside the mirror. Replacement Hollywood glass is free for the first year of your ownership.

 
GLAMCOR Power Vanity
Sale price

$1,886.41 USD
Regular price

$4,200.00 USD
You Save 55% ($2,313.59 USD)
(/)
---
Large Vanity Specifications

Dimensions

Width: 59.06"
Height: 31.01"
Depth: 19.69"
Features
• Nine (9) drawers
• Glass top
• Back corner outlet (US Plugs)
• Curved seating area
• 100ct Crystal knobs

Small Vanity Specifications
Dimensions
Width: 42.28"
Height: 30.09"
Depth: 19.69"
Features
• Five (5) drawers
• Glass top
• Back corner outlet (US Plugs)
• Curved seating area
• 100ct Crystal knobs

Mirror Specifications
Dimensions: 
Vertical - 25.24" x 35.45"
Horizontal - 45.77" x 35.45"
Features:
• Hollywood glam aesthetic
• Adjustable cool & warm lighting
• Magnetic 5x Magnifying Mirror
• Magnetic Phone Clip Attachment
Shipping & Warranty
SHIPPING
• US shipping address:
Ships the following business day from the day your order is placed.
• Outside the US:
This item is not available for purchase internationally.
WARRANTY
GLAMCOR Power Vanity  Secret emoji: 💗
Ninety (90) day unlimited unconditional warranty from the date of delivery for manufacturer's defect, shipping errors and loss of functionality.
RIKI Hollywood Mirror
Five (5) year unlimited unconditional warranty for manufacturer's defect, loss of functionality, parts, shipping, and service. 
Replacement Bulbs - the bulbs on the mirror are only glass bulbs - all the technology is inside the mirror. Should you ever break one of the bulbs, contact us to receive a replacement for free! 
Choose options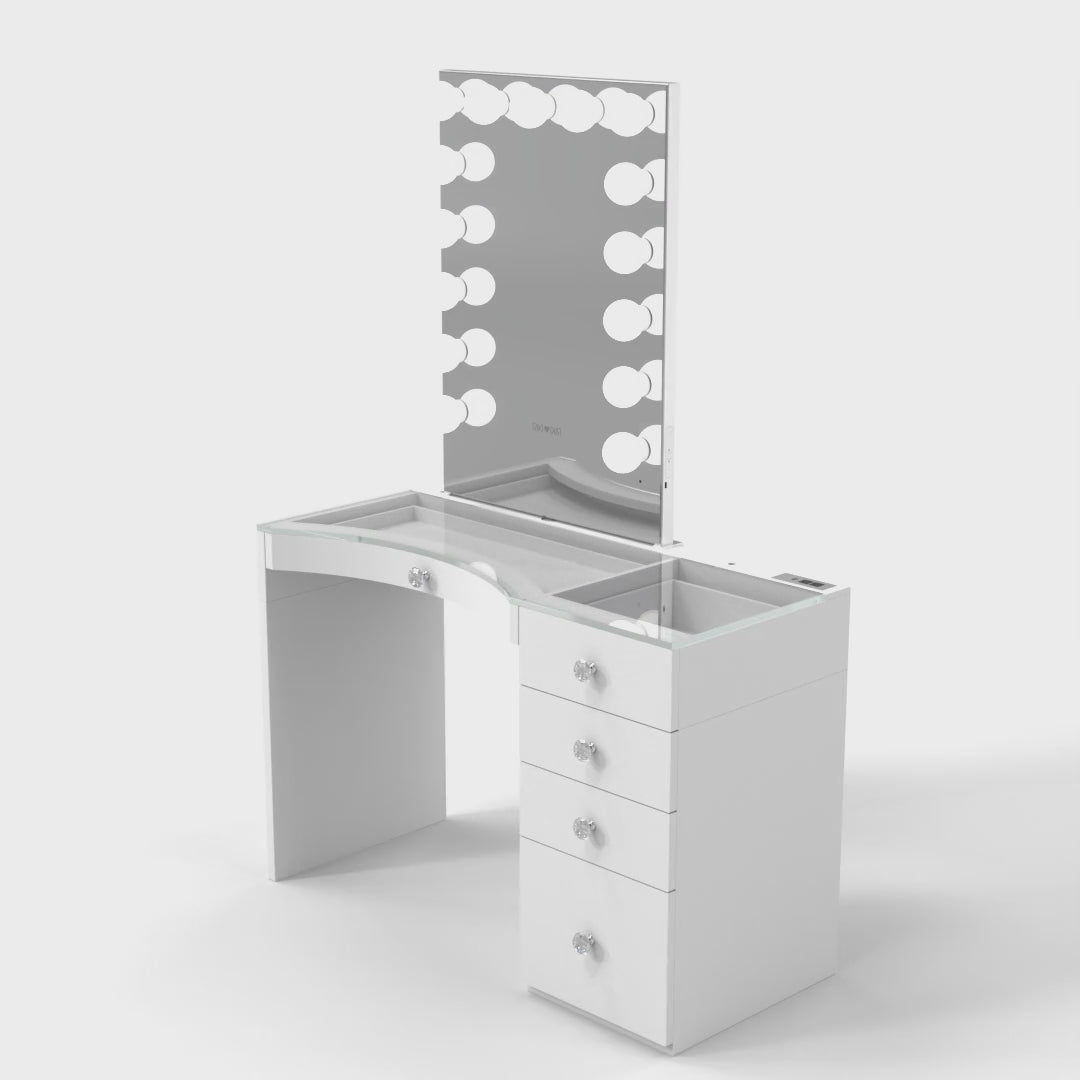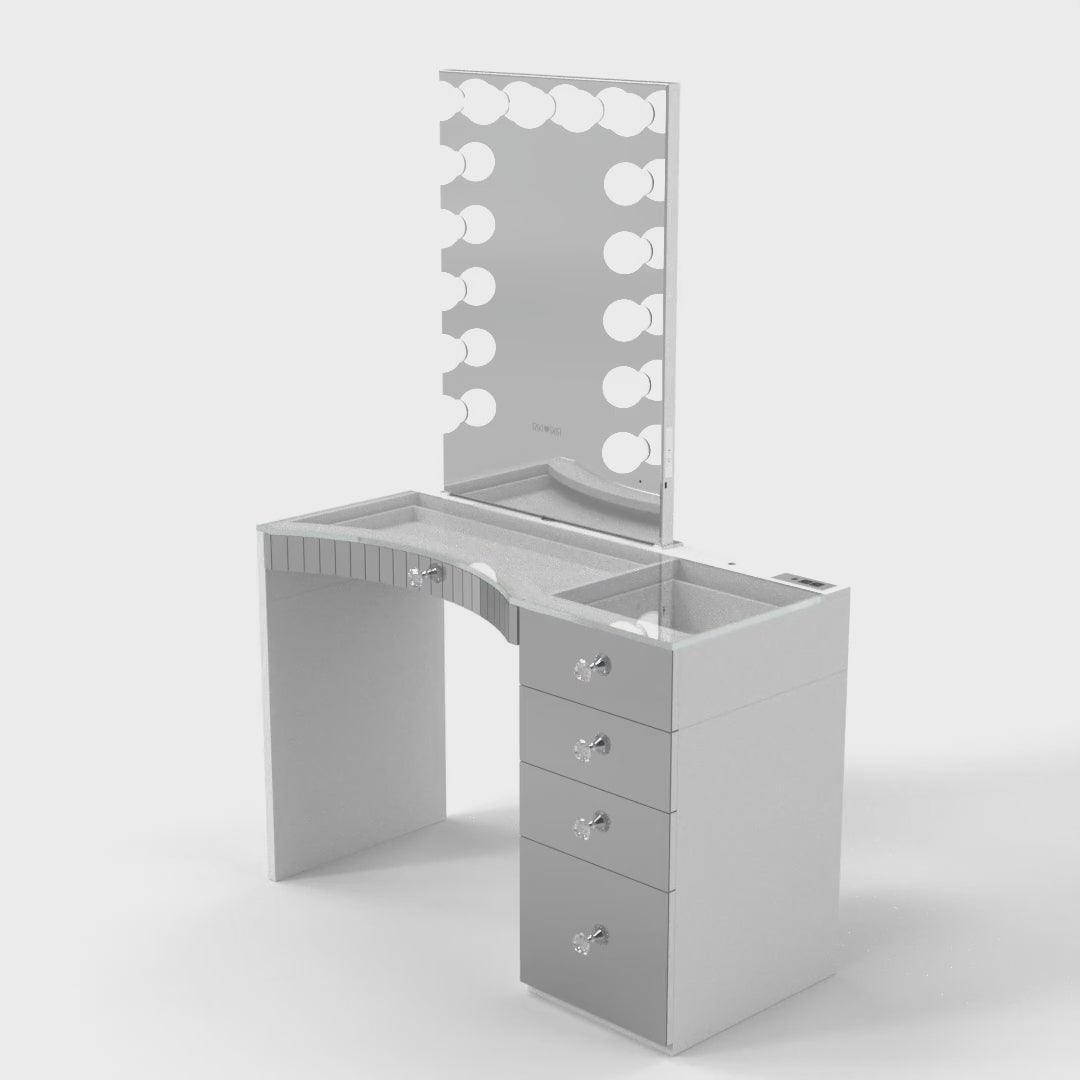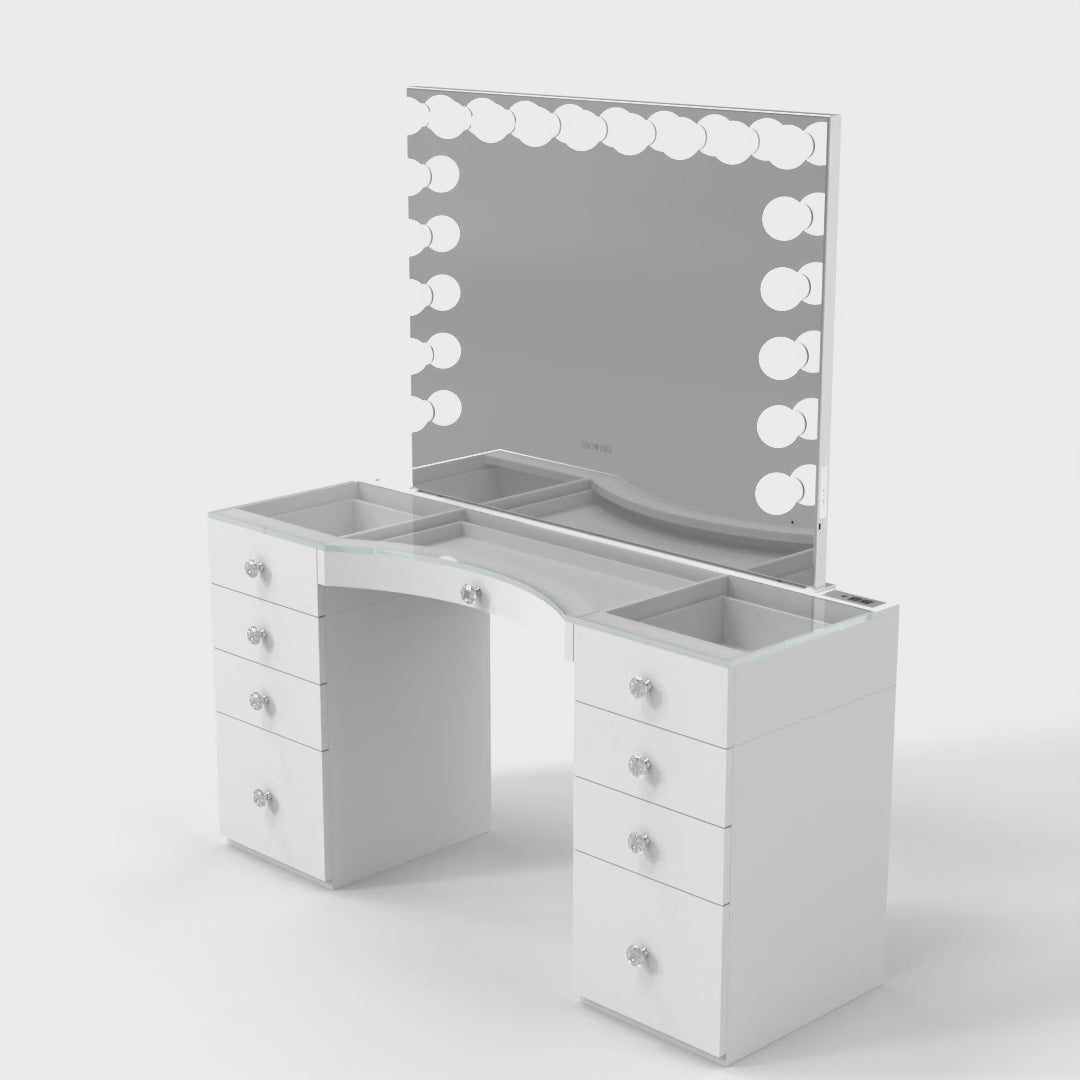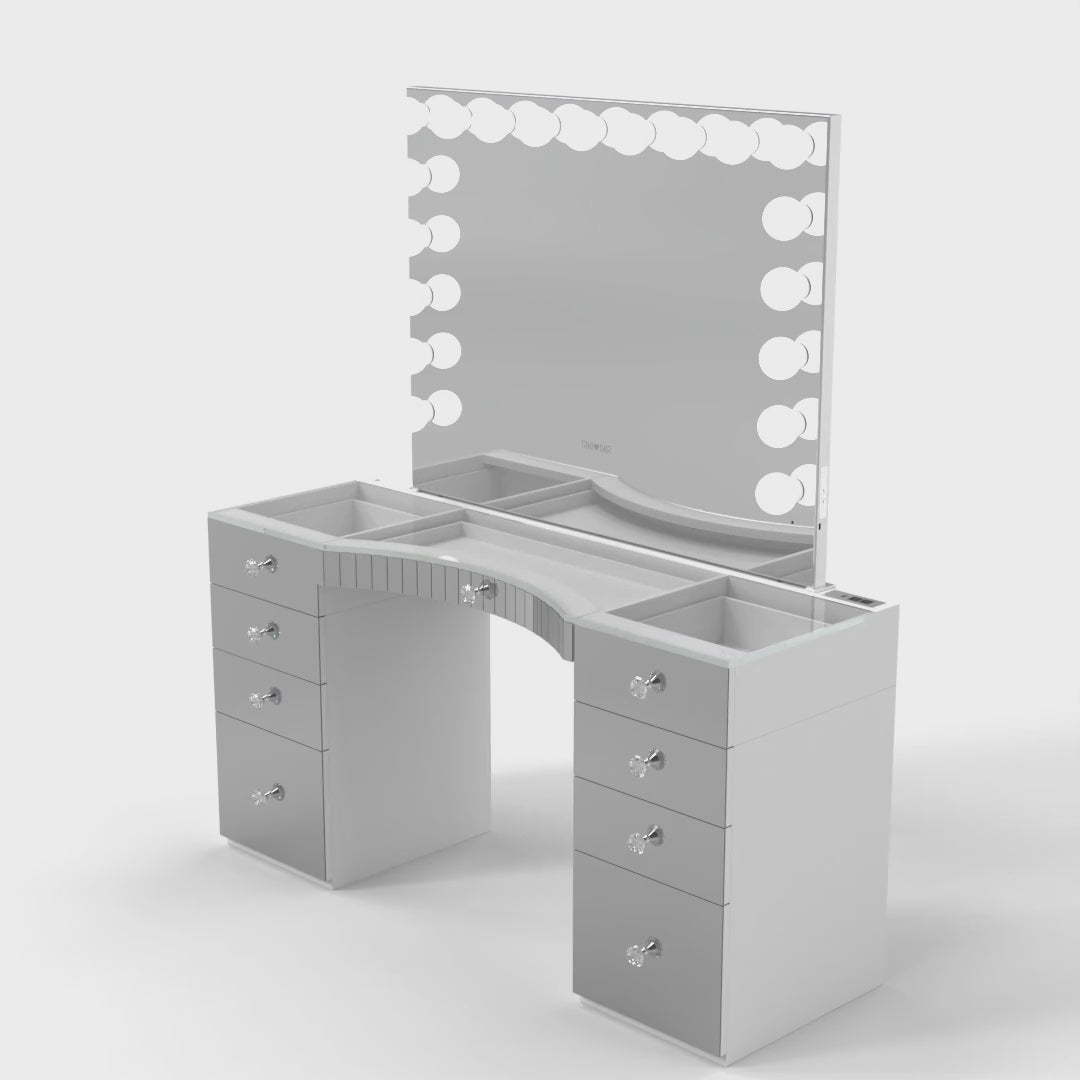 GLAMCOR Power Vanity
Sale price

$1,886.41 USD
Regular price

$4,200.00 USD
You Save 55% ($2,313.59 USD)
Sale price

$1,886.41 USD
Regular price

$4,200.00 USD
You Save 55% ($2,313.59 USD)
(/)
---
View details